Presentation Africa Beer and Drinks of Vigwines
 VIGWINES  STRATEGIC PARTNER OF FONT SALEM
Vigwines is a strategic partner of Font Salem which is one of the European leaders in the manufacture of drinks. We supply beer, soft drinks, drink with alcohol and water under the brands of our customers and our own brands. We manufacture in our factories in Spain and Portugal. Approximate annual production capacity 800 million liters.
Font Salem boasts the latest technology and the power of a large-volume manufacturer that is committed to your product.
The experience that FONT SALEM has gained over more than 25 years' manufacturing and packaging beverages for third parties makes us the perfect partner to cover your co-packing needs.
That's why big companies with well-known brands leading the market entrust FONT SALEM to outsource all or part of the manufacturing process or to grow their range with products that they do not specialise in.
FONT SALEM offers our co-packers' high productive capacity alongside vast experience and flexibility in the development of new products, competitive R+D and a strategic location with direct access to the largest global markets.
Who are we?
Spanish leader in the manufacturing and marketing of beer, soft drinks and sparkling waters.
Font Salem is the Spanish leader in private-label products and co-packing, specialising in different types of beer and a wide variety of still and sparkling soft drinks and water.
Font Salem belongs to the Damm Group, one of the most important beer manufacturers in Spain. Being part of such an important group improves our resources, knowledge and productive capacity, heightening the product and service that we offer our clients.
At Font Salem, we like a challenge. That's why we strive to achieve high quality standards for each and every one of the products and services that we offer, providing nothing but maximum reliability and guaranteed success. Furthermore, thanks to our human team's vast experience in the sector, most of the Spanish and European food distribution chain entrusts our services. Why? We offer timely product and service delivery at highly competitive prices with certified quality guaranteed.
Font Salem is a member of associations such as ANFABRA (National Association of Refreshing Alcoholic Beverages Manufacturers) and APCV (Portuguese Association of Beer Manufacturers) and produces approximately 800 million liters a year.. Each of our factories endeavours to satisfy all our clients' needs while respecting different environmental and social values.
R+D
We always strive to obtain an optimum solution, whether it be in terms of formula or packaging. Our ongoing research means that we can offer support led by a highly qualified team and ensure constant product development and improvement.
We're proud of our innovative techniques, which enable us to conduct the most meticulous, advanced analyses.
Most of our projects integrate different areas and departments that strengthen our customer relationships. Our utmost priority is to manufacture products with the highest quality guarantee.
Quality is fully guaranteed for all Font Salem products and manufacturing processes. Our factories have been awarded a range of certificates guaranteeing unparalleled excellence.
Quality Management System
There is one main purpose behind the effort required for this certification: we want to ensure that our clients are fully satisfied and that our processes are continually improved, from the initial design stages through to manufacturing, and finally, product distribution. In short, at Font Salem we have set ourselves one goal: to achieve excellence.
Food Security
Our factories are IFS-certified (International Food Standard) proving that Food Security is on the top of our agenda at FONT SALEM.
IFS combines Food Security and Quality Control, providing control at each and every stage of the manufacturing process, ensuring completely safe products.
Font Salem already has Kosher and Halal certification for some of its products.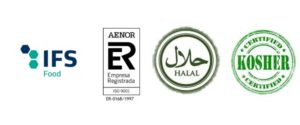 Environment
At Font Salem, we take respecting the environment very seriously, which is why it forms part of how we manage our company. Our policy ensures environmental control and promotes continual process improvements. To achieve this, Font Salem boasts the technical and human resources needed. All staff members have received environmental awareness training and Environmental Good Practices form part of their work. Being ISO 14001 certified endorses our work policy.
Our factories are suitably prepared to minimise environmental impact through independent waste water treatment plants.
Furthermore, all of our products feature the Green Dot recycling symbol and we are visibly assigned to Ecoembes, a non-profit organisation that recycles packaging in Spain.
Logistics
Font Salem offers logistic services that cover all levels:
Large storage capacity, either self-managed or subcontracted, throughout Spain.
Palletization and loading systems adapted to each client's and market needs.
Integral transport management in line with the needs, including post-factory service, covering both Spanish and international destinations.
Stock and product traceability systems throughout the process from manufacturing until the end destination.
Customer logistics service providing an immediate response to queries and requests concerning orders and loads.